Dear Newman Friends,
On December 31st, 2022, Benedict XVI was called home into eternity by the Lord. The late Pope was one of the most renowned Newman friends.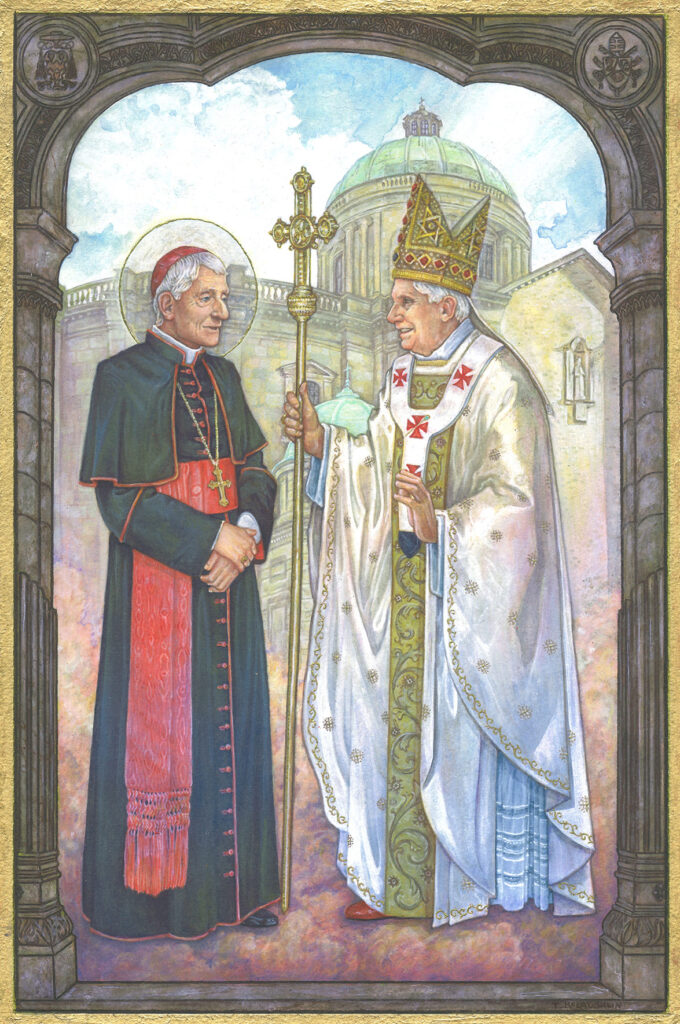 He cherished Newman from an early age and was able to beatify him on September 19, 2010. He was closely associated with our Newman Centre for nearly 50 years (➞ link).
In this newsletter we commemorate with gratitude the life of Benedict XVI, whose affinity with St. John Henry Newman is evident. We attach a contribution by Fr. Hermann Geissler FSO on the topic "John Henry Newman and Benedict XVI: On the Friendship between two Giants in faith" (➞ link). We hope that in these thoughts you will find strength and encouragement on your journey of faith in the challenges of our time.
We are also keen to remember Fr. Ian Ker, who passed away on 5th November 2022. Fr. Ker was a popular priest, a gifted writer, and probably the best-known Newman expert of our time. His publications, especially his standard work John Henry Newman. A Biography, were instrumental in making Newman known around the world (➞ link). A few months before his death, Fr. Ian Ker celebrated his 80th birthday. He was genuinely pleased with the commemorative publication published for the occasion by Dr. Paul Shrimpton (➞ link), which we warmly recommend to you. We remain grateful to Fr. Ker for his support of our Newman Centres.
We are pleased that the various initiatives of our Centres are being taken up by many of the faithful: the Newman Walk through Rome, which has already become a small tradition, retreats in the spirit of Newman and services in his memory, the care of students and Newman friends in our specialist libraries, the dissemination of his message through the media, and lectures and seminars on Newman's theological thinking held at the Heiligenkreuz Highschool of Theology (Vienna), the Pontifical Urbaniana University in Rome and the Faculty of Theology in Florence, Italy.
We highly recommend a visit to our Centre in Littlemore, Oxford, where Newman found his way into the Church and where his spirit is palpably still alive. There are guest rooms available for private retreats, studies or visits in the footsteps of the great Saint. For more information, please contact:

littlemore@newman-friends.org

In the basilicas of the Apostles Peter and Paul and now also at the tomb of Benedict XVI, we pray for your intentions, just as at Littlemore your joys and sorrows are entrusted to the intercession of St. John Henry Newman.
Best regards from Rome.
Fr. Hermann Geissler FSO
Director
Sr. Christiane Fritsch FSO
Secretary